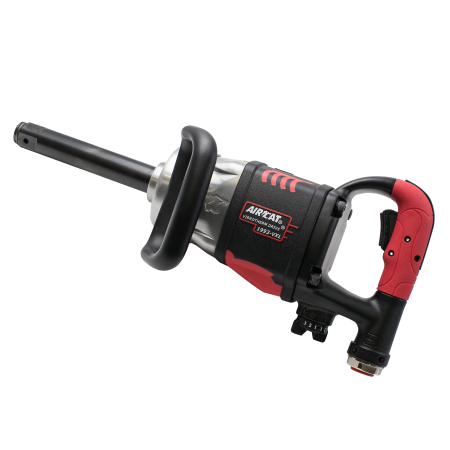 Pre-Order
AIRCAT 1" X 7" EXTENSION INLINE COMPACT VIBROTHERM DRIVE IMPACT WRENCH
AIRCAT 1" X 7" EXTENSION INLINE COMPACT VIBROTHERM DRIVE IMPACT WRENCH
Universal Air Tool Co., Ltd
Provides 3,110Nm release torque.
The VIBROTHERM DRIVE® impact wrenches have the new patented impact wrench mechanism in AIRCAT design.
The new mechanism reduces the level of vibration by 30-40% and increases the lifespan of the mechanism by up to 50%.
6,000 rpm free speed.
Unmatched performance to weight ratio.
Rubberized grip and rubberized trigger pads for ultimate comfort.
Combined friction ring and through hole socket mount.
A triple injection molding process allows AIRCAT to have an aesthetic design unmatched in the industry.
Technical details:
Max torque: 2,850Nm
Square: 1 x 7"
Blows per minute: 950
Speed: 6,000 rpm
Screw size: 32mm
Weight: 9.16 kg
Length: 474.98mm
Vibration level: 12.7m/s2
Air Consumption: 10 CFM
Recommended hose size: 1/2"
Connection NPT/BSP: 1/2"
Stock:

Pre-Order

Model:

UT-AC1993-VXL

Universal Air Tool Co., Ltd