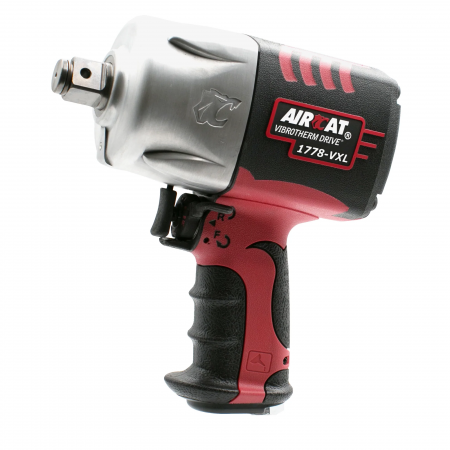 Pre-Order
AIRCAT 3/4" COMPACT VIBROTHERM DRIVE IMPACT WRENCH 1700FT-LB
AIRCAT 3/4" COMPACT VIBROTHERM DRIVE IMPACT WRENCH 1700FT-LB
Universal Air Tool Co., Ltd
Provides 2300Nm loosening torque.
The VIBROTHERM DRIVE® impact wrenches have the new patented impact wrench mechanism in AIRCAT design.
The new mechanism reduces the level of vibration by 30-40% and increases the lifespan of the mechanism by up to 50%. That's why we offer a 3-year guarantee!
The latest patented AIRCAT silencer system produces the characteristic and unsurpassed low AIRCAT noise level.
The patented handle design offers the usual AIRCAT operator comfort.
A triple injection molding process allows AIRCAT to have an aesthetic design unmatched in the industry.
Technical details:
Max torque: 2,000Nm
Square: 3/4"
Blows per minute: 1,300
Speed: 5,400 rpm
Screw size: 26mm
Weight: 3.35 kg
Length: 187.96mm
Vibration level: 7.7m/s2
Air Consumption: 8 CFM
Recommended hose size: 1/2"
Connection NPT/BSP: 3/8"
Stock:

Pre-Order

Model:

UT-AC1778-VXL

Universal Air Tool Co., Ltd